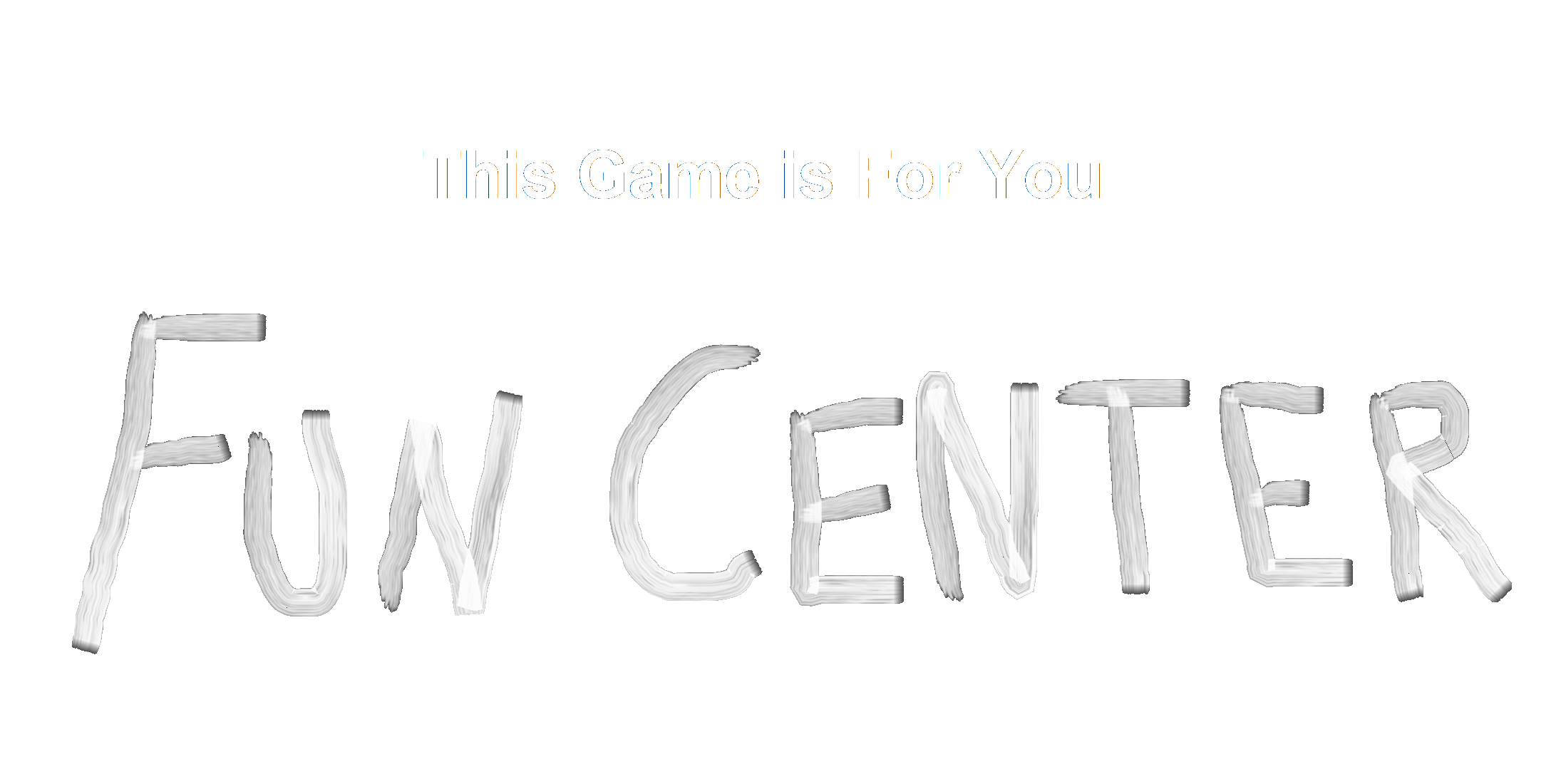 This Game is For You: Fun Center
Comments
Log in with itch.io to leave a comment.
This game was actually really fun, but I did find a game breaking glitch. If you stood by Linus for a little bit, you would get locked in a jumpscare. It wouldn't bring you to the menu or anything. You could wait out the whole night, and keep winning. But other wise, this was great. Good Job mate!
Thanks the feedback, man! Appreciate it!
Oh, and I was thinking about that glitch you were talking about, and I just realized there was an easter egg I put in the game where if you stood by Linus for too long (around 60 seconds), you'll get jumpscared and die. I probably forgot to make sure you went to the main menu afterwards.
I'm actually subscribed to your channel. Love the content!
GAME REVIEW
-DIFFICULTY-
✅ It Depends on your level

🔲 My 90-year-old grandma could play it
🔲 Easy
🔲 Normal
🔲 Hard
🔲 "Dark Souls"
- Accessibility -
🔲 Easy to figure out
✅ Takes some time to figure out
🔲 Hard to figure out
🔲 Very Unclear
- GRAPHICS -
🔲 "MS Paint"
🔲 Bad
🔲 Meh
✅ Graphics don't matter in this game
🔲 Decent
🔲 Good
🔲 Beautiful
🔲 Masterpiece
- MUSIC && SFX - 🔲 None
🔲 Bad
🔲 Not special
🔲 Good
✅ Beautiful
- STORY -
🔲 This game has no story it's a ♥♥♥♥♥♥ simulator/Shooter
🔲 Like playing "Temple Runners" for the story
✅ It's there for the people who want it
🔲 Well written
🔲 Epic story
- PRICE -
✅ Free
🔲 Underpriced
🔲 Perfect price
🔲 Could be cheaper
🔲 Overpriced
🔲 Complete waste of money
- REQUIREMENTS -
✅ You can run it on a microwave
🔲 Average
🔲 High end
🔲 "NASA" computer
- LENGTH -
🔲 Super Short (0-10 minutes)
🔲Very short (0 - 1 hours)
(haven't played it fully)
✅ Short (1 - 10 hours) (if you grind for it)
🔲 Average (10 - 30 hours)
🔲 Long (30 - 70 hours)
🔲 Extremely long (70 - 110 hours)
✅ No ending (you can play it forever)
- FUN -
🔲 I'd rather watch paint dry
🔲 Hard to enjoy
🔲 Repetitive
🔲 Actually pretty scary
✅ Ride of your life (I just loved it)
- REPLAYABILITY -
🔲 It's a one-time experience
🔲 Only for achievements
🔲 If you wait a few months/years
🔲 Definitely (you can always go back and improve and is still enjoyable)
✅ Infinitely replayable (it's one of a kind)
Special Thanks to BLUEY from Steam (Creator of the template)
- MARKETING - (How well your game page)
🔲Very Weak (No photos/videos/Description/Story/External Links + Devlogs)
✅Weak ( No photos/videos/Story/External Links + Devlogs)
🔲Good (Devlogs + People commented on it)
🔲Great (has all the above + People played it and shared their videos of playing it)
Hey! I played your game on my stream! Watch it to see the live review! Here's the link for it: https://www.twitch.tv/nitro_spacematterplay 😄
I would also appreciate if you could give an opinion on our latest game. Game devs advice is precious because we know better what it takes to make something work. It's called "Backdoor Shifts".
Thanks for your review, and I'll consider checking that out :)